I have a bit of a mini eraser obsession. Honestly-I just can't resist them. I buy them at Target, and Party City, and Dollar Tree, and anywhere else I spot them. I'm sure the cashier at Target was wondering why I needed so many bags of erasers shaped like bats, pumpkins, and ghosts! For just a dollar each though, they were an awesome find in Target's dollar spot. We are doing a bat theme this week so that works perfectly, and in 2 weeks we'll be studying pumpkins and can use the pumpkin erasers! I plan to use the erasers in my math work stations this month in lots of ways.
Click here
to download these basic counting mats for the numbers 1-20.
These erasers also make awesome math manipulatives for pattern practice. Students can practice making different patterns with the bats, ghosts, and pumpkins.
The erasers also will make great game pieces for just about any math game. For example, I can have students play my
Spin a Shape game
-and use the mini erasers to cover up the shapes they spin.
Most of my kindergarten students aren't quite ready for addition and subtraction yet, but these mini erasers also make fun manipulatives for practicing math facts. I might have some of my more advanced students play an additon game with the erasers. I think I'll have them roll 2 dice, write an addition fact with the two numbers they rolled, and then use the erasers as manipulatives to help them solve the addition problem.
The mini erasers weren't my only Target find over the weekend. I also found these spooky glow in the dark fingers in the dollar spot. I will definitely be adding them to my big book and pocket chart literacy stations for students to use as they point and read big books, poems, and charts. Maybe I'll even turn out the lights one day and we can see just how well they glow in the dark!
My final dollar spot find were these cute little felt bags. I think I'm going to store pumpkin and candy themed math or literacy stations in them. Now I just need to find the time to create cute pumpkin and candy corn games for these bags!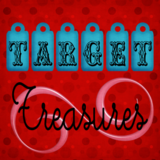 If you've found any bargains lately-please share! If you have a great Target find, be sure to link up to the
Target Treasures
blog.