I think I have the organization under control in my classroom library. I've got plenty of shelves, colorful little baskets, and
labels
. However, since I'm moving into a new classroom this year, I'd really like to spruce up the decor in my library. That's where Target comes in!
I found Corduroy on sale in the clearance section for $6.99. I will definitely be adding him to my growing collection of storybook characters that I use to decorate my library shelves.
I absolutely love the classroom library pic posted on
Kindergarten Kindergarten's blog
, and have been wanting wooden letters to spell the word "READ" on the wall in my classroom library.
I lucked out and found these fabulous letters in the dollar spot (of course they were $2.50 each instead of a dollar-I always gravitate to the most expensive things in that "dollar" spot!). I hesitated to even share this find since I couldn't find all the letters I needed at my Target and had to beg my mom to track down the letter "E" at her Target (which she did!). You know you're a Target addict when you begin involving family members!
My final find at Target this week was a bit pricey (if I remember correctly it cost $20). I bought these wall stickers that you can stick on your wall to make a tree (the stickers also peel back off). I just had to have this though! How cute is that tree?!
Now, I did manage to show some restraint at Target this week. I desperately wanted to buy some of the dorm furniture they had on sale to put in my classroom library (such darling little storage cube benches and corduroy dish chairs!). I might cave in and go back for some of it next week...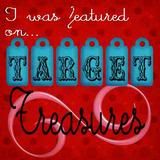 Now head on over to Hadar's blog,
Target Treasures
, to link up for Fab Find's Friday. Hadar is so nice to have featured some of my Target finds on her post today!