Wow-winter has finally come to St. Louis. Brrrr! What a cold and cloudy day outside-recess duty was certainly not any fun today! Two of my favorite bloggers did pass some much needed sunshine my way though with the Sunshine Award.
Much thanks to Marlana at Lil' Country Kindergarten for this award-I adore your blog and you have been so kind to me ever since I started blogging this summer! Without you I would have no idea how to imbed a google doc into my blog posts!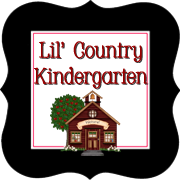 Thank you also to Chrissy at ReadWriteSing for this award. Chrissy is awesome-and the only blogging friend I have ever met in real life. You are just as nice as can be Chrissy-and my students are thrilled that you introduced the box of mice puppets into our morning meeting!
Now on to the questions that come with this award...
Favorite color? Yellow (I just painted my sunroom yellow this summer and it is my favorite place to be-yellow is just a happy color).
Favorite animal? That would be my little pup- isn't he cute?

Favorite number? 2- no idea why-but I do like even numbers!
Favorite drink? Tea! Iced tea, hot tea, bubble tea, really any tea. I have an entire cabinet in my kitchen full of tea! I know...I'm probably the only kindergarten teacher in the world that doesn't drink coffee.
Facebook or Twitter? Facebook. But honestly...I am more into checking blogs these days than facebook!
Passion? My family, friends, teaching, reading, cooking, and of course blogging (although it seems I do more blog reading than blog posting lately!)
Giving or getting presents? I love giving presents-so much fun picking them out (of course receiving presents is fun too!)
Favorite day? Friday- I love knowing I have the whole weekend ahead of me!
Favorite flower? Hydrangeas and lavender
Now, I realize I am supposed to pass this award along to other bloggers...but I just can't choose. I love all the blogs I read (and it seems like most of you have already received this award too!).